A new playground for STRAMATEL: the U-Arena in Paris La Défense.
A new reference for STRAMATEL after Accor Arena Paris Bercy last January, STRAMATEL will equip the largest European sport venue: U-Arena located in Paris La Défense. This huge arena will replace the Racing Metro 92 rugby field by a basketball playground to host an exceptional basketball match between Nanterre 92 and LDLC ASVEL.
Nanterre 92 basketball club is temporally moving to U Arena Paris La Defense.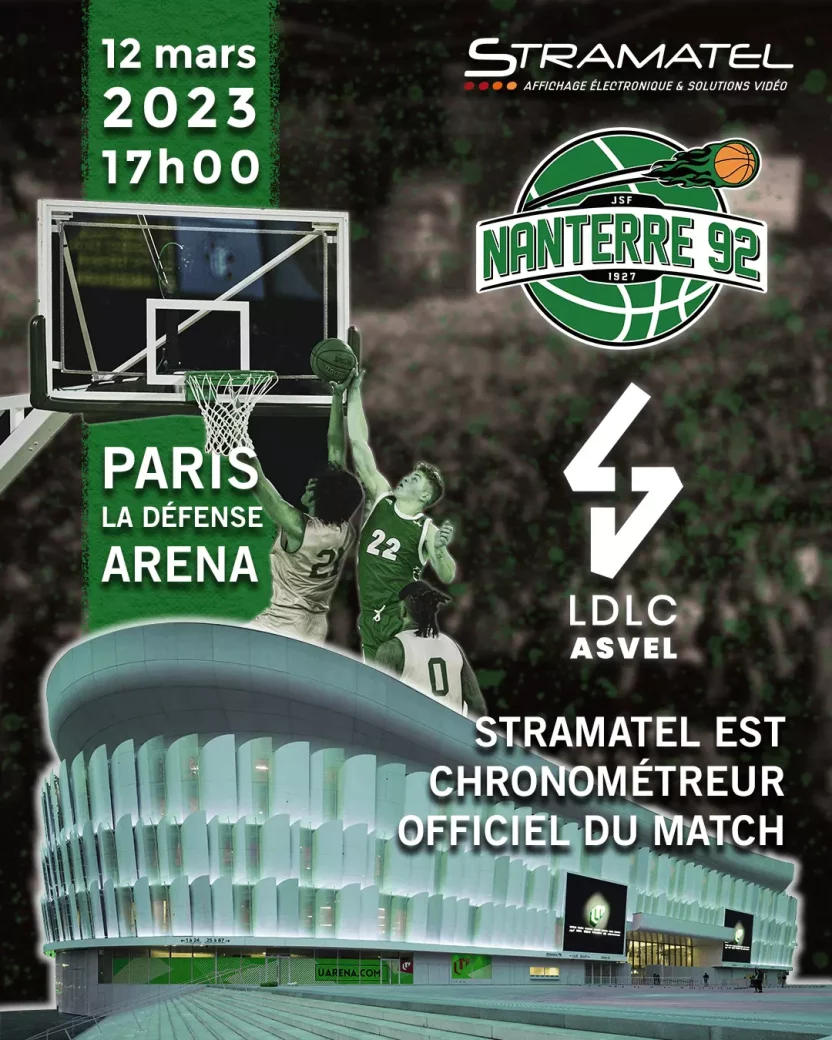 STRAMATEL has been supporting the Nanterre 92 basketball club for several years, and has already participated in a major competition with historical attendance during Betclic Elite Match. This time the club will play in U Arena located in Paris La Defence and a new attendance record is about to fall once again.
STRAMATEL FIBA approved electronic scoreboards and video solutions in the largest European sport venue.
For this event, STRAMATEL will supply high level equipment, approved by the French Basketball association (FBB) and the international Basket ball federation (FIBA), including:
Shot clocks showing attack timer and main time of the match with digital countdown, indicating the time in seconds and with integrated  very loud automatic signal to indicate the end of the shot clock period.
A pair of yellow and red LED strip connected to the shot clock, along the backboard perimeter at the top, mounted on its inside borders which lights up: in yellow only when the shot clock signal sounds, in red at the end of the game clock.
124 dB horn to indicate the end of the period and match events
SL Video system , Sport software with dedicated computer to use, operate and design the large video screens installed in the Arena as scoreboard. The scoring match information and the media are also managed on the video cube.
A set of FIBA approved control consoles for accurate timing.
A court scoreboard model 452 MB 7100 with programmable team names repeating the match information for the player and the audience
This second game at Paris La Defense Arena is a training match as the Nanterre 92 Basketball team with green shirts will again face LDLC ASVEL soon.
---
Continue with articles related to your reading: