Safety display : Display number of days without accident
A good way to communicate
The safety display makes it possible to ensure a good visualization of the accident statistics of the company and thus enhance its commitment to the safety of its employees.
The use of LED electronic display is a preferred way of communication to draw attention to workplace safety.
Customization according to your needs
The information displayed on our accident-free number of days panels is customizable in order to accurately target the messages to be distributed within your company..
The electronic displays allow a visual identification corresponding to your graphic charter (colors, logo …) and the obligations in terms of posting (right to the information of all your employees).
Displays suitable for outdoor use
Our outdoor safety displays are specially designed to ensure readability and resistance to a weather-exposed installation. Thanks to LEDs with high luminous power, our safety signs immediately attract attention.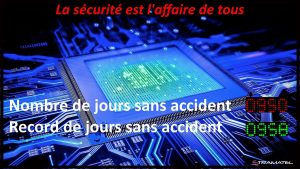 Project for&nbspSafety display ?

Need assistance ?

Please feel free to leave your details on the online request to be contacted by our experts.